Alixe Capelleman from Belgian sharing her experience training at the Yuntai Mountain School in China.
This was definitely one of the best experiences of my life. It wasn't easy, though, especially during the first two weeks, which were challenging both mentally and physically. Your body needs to adjust to the rigorous training, so it's advisable to work on your strength, flexibility, and endurance before arriving (for example, practice push-ups, splits, bridges, and running).
Once you're here, the adventure begins, and don't worry, the pain will lessen 😉. The training and the people are amazing. Both the shifus and the other students will encourage you to push your limits. It's truly an incredible environment, and the view of the mountain is breathtaking. I stayed for two months, and I definitely (hopefully) plan to come back.
A friendly reminder: don't expect it to be easy here. The school's motto is "no pain, no gain", but that's what makes it so rewarding. Embrace the challenge. You will grow in many ways and certainly won't regret coming here, especially after meeting so many incredible people. I became very close friends with people from almost every continent, and we're already planning a reunion. Many of them were even here for the second or third time, and I completely understand why they keep coming back. I left with the exact same feeling.
TIP: The food here is not rich in protein, so consider bringing some protein powder with you or purchasing meat/protein in town during your time off.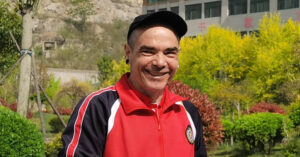 Angelo from Germany sharing his experience training at the Yuntai Mountain School in China...
Read more