Andi & Anja sharing their experience training at the Yuntai Mountain School in China.
Our experience training at Yun Tai Shan International Culture and Martial Arts School
My wife Anja and I stayed at the school for four weeks from 31st of August 2019 to 28th of September 2019. We both had already some experience in kickboxing. However, we had intended to join the Kung Fu group. But when we arrived at the school, the Sanda Shifu welcomed us. He explained that Sanda and kickboxing are different but have many things in common so that we spontaneously decided to practice Sanda instead of Kung Fu.
Training is hard, especially the endurance part. But the good news is that endurance exercises are such that also the technical skills are trained. E.g., working with pads is an endurance challenge and a good opportunity to improve punches and kicks. The lessons started with the very basic techniques like step move, jump move, left and right punch etc. Even skills like how to use a bandage are explained in detail.
Qiao Shifu never got tired to repeat everything again and again. Time does not matter! When he supervised the students one could clearly feel his competition experience. He noticed every small mistake and pointed out the consequence:
'If I hit you, you will be finished!'
On the other hand, training was always fun and the atmosphere was very familiar. We also did two very nice excursions, one to the Shaolin temple and one to the Yuntai Mountains which were really fun. Food and housing fulfill high standards.
After one month at the school, time has been running so quickly and four weeks are by far not enough to learn Sanda. But it has been a great time and we would like to say thank you to all of the Shifus and the other students.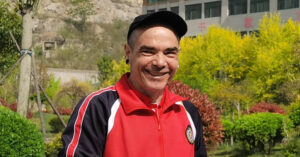 Angelo from Germany sharing his experience training at the Yuntai Mountain School in China...
Read more